Hober Solar Pond Aerator is an eco-friendly, energy-efficient solution designed to improve the water quality of ponds, lakes, and other water bodies. Utilizing solar panels to harness energy from the sun, this device operates an aeration system that enhances oxygen levels in the water. The increased oxygenation promotes a healthier aquatic ecosystem, reduces algae growth, and minimizes odors.
Why Choose Hobertek's Solar Pond Aerators
Latest Technology: Our solar pond aerators are equipped with cutting-edge technology that ensures optimal oxygen levels in your ponds.
Durability: Built to withstand harsh environmental conditions, ensuring long-term reliability.
Customization: We offer OEM services and free design drawings to meet your specific needs.
Technical Support: Our dedicated after-sales service team is always ready to assist you with any technical queries.
Fast Delivery & Flexible MOQ: We understand the urgency of your needs, and we strive to fulfill them as quickly as possible.
Solar Pond Aerators Feature
Energy-Efficient: Operates solely on solar power, reducing operational costs and carbon footprint.
Sustainable: Offers a long-lasting solution for water bodies without access to electrical grids.
Improved Water Quality: Enhances oxygen levels, which in turn supports aquatic life and reduces harmful bacteria.
Low Maintenance: Typically requires minimal upkeep, making it a cost-effective option for long-term use.
Versatile Applications: Suitable for a variety of settings, including agricultural ponds, fish farms, and recreational lakes.
Hybrid Inverter : Solar and Battery Input can work 24 hours a day , even if in rainning and cloudy day 
Solar Pond Aerator Appliction
Aquaculture
Fish Farming: Maintain optimal oxygen levels for fish health and growth.
Shrimp Ponds: Ensure a conducive environment for shrimp cultivation.
---
Agriculture
Irrigation Ponds: Improve water quality to ensure better crop yield.
Livestock Watering: Provide cleaner water for livestock.
---
Industrial Use
Wastewater Treatment: Enhance the breakdown of organic matter in wastewater ponds.
Cooling Ponds: Maintain temperature and oxygen levels in industrial cooling ponds.
---
Environmental Conservation
Natural Ponds and Lakes: Improve the ecosystem by promoting better water circulation and oxygenation.
Wetlands Restoration: Aid in the restoration and maintenance of natural wetlands.
---
Recreational Use
Golf Course Ponds: Improve the aesthetic and health of water features in golf courses.
Decorative Ponds: Maintain the beauty and health of ornamental ponds in public and private spaces.
---
Specialized Applications
Emergency Oxygenation: Provide immediate aeration in cases of power failure or natural disasters.
Remote Locations: Ideal for areas without access to electrical grid power.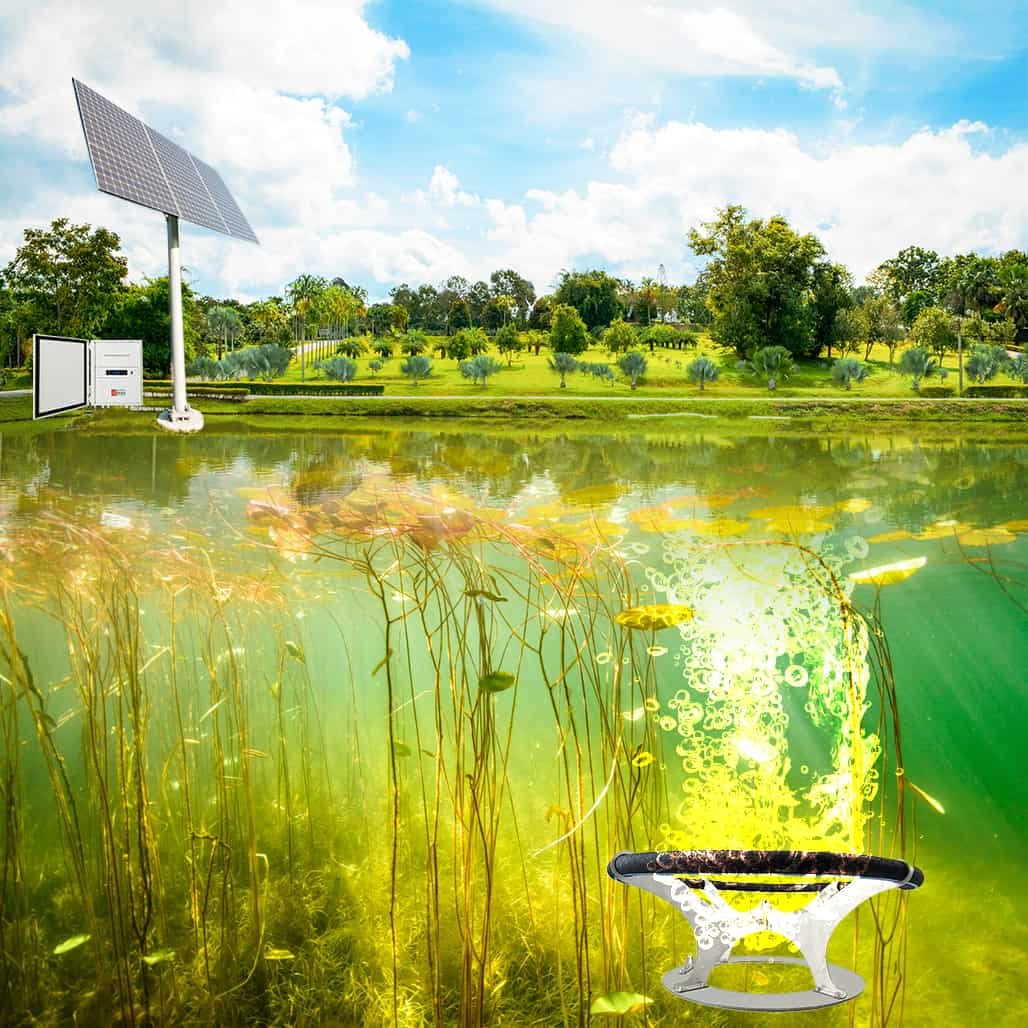 Consider When Purchasing Solar Pond Aerators
Production Capacity: Ensure the supplier can meet your volume requirements.
Quality Assurance: Look for certifications and quality control processes.
Technical Support: Availability of after-sales service and technical assistance.
Delivery Time: Assess lead times and reliability in delivery schedules.
The system consists of solar modules + compressor + battery + MPPT charger + variable frequency drive controller + control center.
The ideal pond area for this system is 1.5 acres (< 8 mu)
Technical Specifications:
MPPT charger controller, max efficiency 98.5%
Brushless & Sensor less 3phase 24V aeration pump
High efficiency Mono panels 265W*2pcs, 85% efficiency guaranteed for 15 years
Fully automatic solar tracking system, wind resistance level up to 10 typhoons
Built-in surge protector, fuse, DC circuit breaker, easy maintenance
Compressor flow >= 55L/min(1.95SCFM) @ 0MPA, >= 45L/min(1.6SCFM) @ 0.2MPA
16 mm x 40meters airline * 2 pcs
2 – Self-weighted diffusers
Comprehensive Protections:
Solar DC Input Over-Voltage Protection
Solar DC Input Anti-reverse Protection 
Battery Low Voltage(power)
Battery Overvoltage Protection
Aeration pump phase lost Protection
Aeration pump over current/ short circuit/ block running Protection
Over Temperature Protection
Charger Overcurrent Protection
Charger Overvoltage Protection, etc
10. Optional water-dissolved oxygen sensor, automatic detect and control the water-dissolved oxygen
11. Support 2G remote SMS control, and actively alarm when something wrong with the system (SMS + phone call)
12. Built-in clock unit, two sets of timers be used for timing control


Save Your Time, Money & Labor,
Irrigating Your Farm All Year Round!
Through Creativity, Integrity & Innovation