Solar Pump Projects are Not Just a Trend
they are a necessity in today's world. With the increasing demand for sustainable energy solutions, solar pumps have become a cornerstone in various sectors, including agriculture, industry, and community water supply.
Agricultural irrigation are an efficient and sustainable solution for farmers and agricultural businesses. These systems harness the power of the sun to operate water pumps that can be used for irrigation, providing a cost-effective and eco-friendly alternative to traditional electricity or fuel-powered pumps.
Revolutionizing Water Supply for Human Consumption
Access to clean water is essential for human health and well-being. In many parts of the world, especially in remote and rural areas, the lack of reliable electricity infrastructure poses a significant challenge to water supply. Solar pump inverters offer a sustainable and cost-effective solution to this challenge, utilizing abundant solar energy to provide a consistent water supply for human use.
Water management for agricultural and urban use often requires the extraction of water from rivers to fill canals for irrigation, municipal supply, or aquaculture. Traditional methods rely on grid power or diesel generators, which can be costly and environmentally unsustainable. Solar pump inverters provide an innovative solution that harnesses solar energy to extract and transfer river water efficiently and reliably.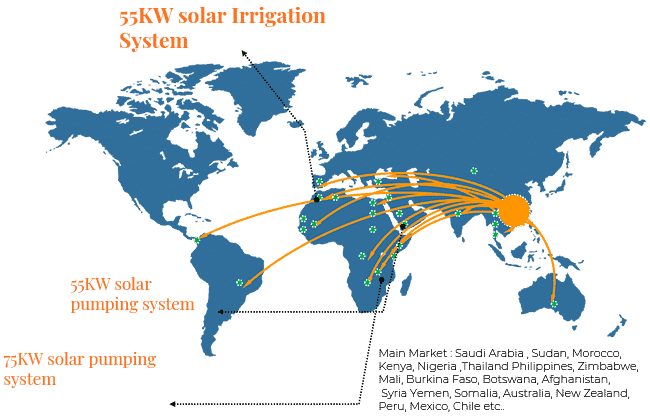 10000+ Sold and Installed Worldwide
Hober has rich experience to offer high cost-effective products and integrated energy solutions. In the past 11 years, the solar products are used in over 60 countries and areas , such as 300 watt solar panel and 500 watt solar panel. The stable operation & excellent performance are universally recognized by users around the world.
How We Work and Make it Real
We will need your building drawing or photo to design Solar Pump System  solution of quantity, and routing online.
We will help you to select the most economic and effciency solar pump or solar pump inverter meet your requirement.
We will provide remote or local technical training to help you get the Solar Pump System work.
We provide solar pump installation online or on site technical support. we will analyze the cause of the failure through videos and pictures.
I've been using Hober solar pump inverters for the past two years across various installations in Nairobi. They have proven to be exceptionally reliable, even in the harshest weather conditions. The build quality is impressive, ensuring that the inverters last for a long time without any significant maintenance.
"What sets Hober apart is their customer service and technical support. Whenever I have had queries or needed assistance, their team has been readily available to provide detailed guidance. This level of support is essential for ensuring seamless installation and operation for my clients."
"As an installer, I appreciate the simplicity and user-friendliness of Hober solar pump inverter . The installation process is straightforward, which saves me time and labor. Furthermore, the clear instructions and intuitive interface make it easy for my clients to operate the inverters without any technical assistance."
More 

Related

 

Solar Products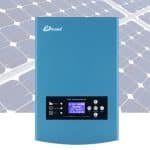 The Hober Solar Pump Inverter boasts superior efficiency, outperforming other inverters by 5%-10% that require programming. With its advanced inverter control algorithm, it delivers 30% more water output. Additionally, its Maximum Power Point Tracking (MPPT) efficiency reaches an impressive 99% due to its cutting-edge MPPT algorithm.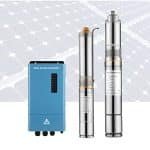 The solar submersible pump, powered by sustainable solar energy, is designed for deep well water extraction. Its robust design ensures efficient and reliable operation, making it an ideal choice for businesses in regions with limited access to grid electricity.
The solar surface pump is an eco-friendly and efficient solution for water extraction from shallow sources. Utilizing solar energy, this pump offers a sustainable and cost-effective option for businesses, especially in areas where grid electricity is either unavailable or inconsistent.
The solar combiner box is a crucial component in photovoltaic systems, designed to consolidate multiple solar panel outputs into a single, streamlined connection. This enhances safety, simplifies system monitoring, and ensures optimal performance, making it an essential choice for businesses aiming for efficient solar installations.
Save Your Time, Money & Labor,
Irrigating Your Farm All Year Round!
Through Creativity, Integrity & Innovation