Versatility at Its Core: Empowering Pumps from 0.75kW to 200kW
HOBER Solar Pump Inverters are engineered to adapt, powering a wide array of pumps, from modest 0.75kW (1HP) units to robust 200kW systems. This adaptability is made possible by a comprehensive DC input voltage range, accommodating various solar panel configurations with ease.
Seamless Hybrid Functionality: Solar and AC Power Synergy
The hybrid feature of our inverters underlines our dedication to continuity, blending solar with grid power to deliver uninterrupted service, and prioritizing eco-friendly solar energy whenever available.
Intelligent Automation: Advanced Monitoring and Dry-Run Protection
HOBER inverters excel in self-regulation, equipped with smart sensors for real-time water level monitoring. They automatically prevent operational issues like dry running, ensuring smooth, unattended system function.
User-Centric Design: Intuitive Operation with Durable Construction
Ease of use is central to our design. The intuitive interface allows for simple navigation and parameter adjustment, while the robust construction, signified by an IP65 rating, ensures the inverter's resilience against water and dust.
Enhanced Connectivity: Remote Management Enabled
With optional 4G/WIFI capabilities, HOBER inverters offer the luxury of remote system monitoring and control, a feature that modernizes water management and enhances user engagement.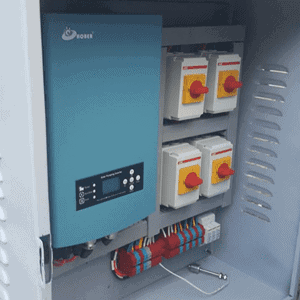 Explore the full potential of our solar pump inverters and transform your water management system with HOBER. For a detailed dive into the features and benefits, visit us at www.hobertek.com/solar-pump-inverters.